Sustainable recreation: golf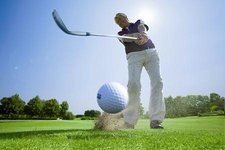 Increasing attention is also being paid to sustainability by the golf sector. This does not just mean making golf courses more natural, but also involves the management of tees, fairways and, in particular, greens. Management practices are becoming increasingly sound while no concessions are made in terms of playing quality. More economical use of water for sprinkling and a reduction in the use of chemicals and fertilisers are criteria for the sustainable management of golf courses.
The Golf Environment Organization GEO specifies six aspects for sustainability: water, energy & resources, environmental quality, landscape & ecosystems, people & communities and products & supply chains. The products developed by Barenbrug under the GreenEarth label are fully compatible with these concepts and help to make golf course management in Europe more sustainable.