Dynamo turnip is a high yielding summer crop which is ideal for dairy cows. It provides large volumes of low cost quality feed to help maintain milk production when pasture quality and quantity declines.
DM yield
In trials Dynamo has shown high yield, not significantly different from the other top cultivars.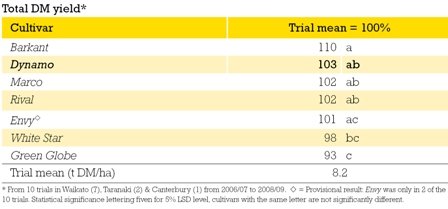 Low cost summer feed
Sowing a poor performing pasture in Dynamo makes sense - it can provide feed for around 13c/kg DM*.

High bulb percentage
Summer turnips produce their yield in different ways. Dynamo produces a good level of bulb (around 48% of total yield), giving it an advantage in seasons when high levels of leaf diseases or pests are present.
Using Dynamo