Invitation is a late maturing, yellow-fleshed swede, with high bulb and leaf yield. It provides excellent winter feed for sheep, cattle and deer.
High yield & disease tolerance
Invitation produces excellent total DM yields with good dry rot tolerance and resistance to club root and powdery mildew. Invitation is not recommended as a second crop.
Late flowering
Invitation is very late flowering, meaning the crop stays vegetative longer into spring than other cultivars. This minimises the chance of animal health problems associated with 'bolting' swede crops, as seen in spring 2014 in Southland. No issues were reported on Invitation swedes.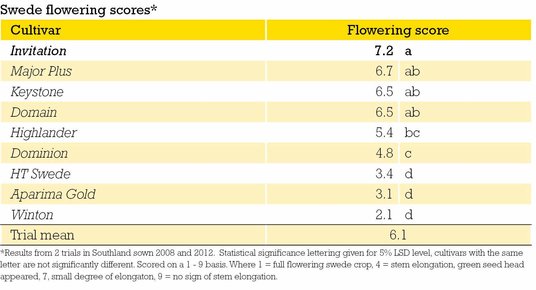 Good leaf yield
Invitation produces high leaf yields showing a significantly higher leaf percentage than other cultivars in trials. This lifts the overall protein level of the crop and is helpful when introducing swedes into an animal's diet, particularly for younger stock.
Bulb & leaf keeping
Invitation has shown high bulb keeping ability and leaf retention in trials, helping maintain its feed quality and quantity through to the end of winter.
Using Invitation