More clover
Safin doesn't spread across the ground and choke out clovers like traditional cocksfoot. This means it encourages higher clover populations as well as being easier to graze.
Early growth (with high total DM)

A key feature of Safin is its increased production in winter and early spring. DM growth is critical through lambing or calving for dryland farming systems, to finish stock prior to potential summer dry conditions. Safin has an advantage through this period, as shown below, and in the paddock it is noticeably faster to get away in spring.

Over the whole year total DM production of Safin is very good.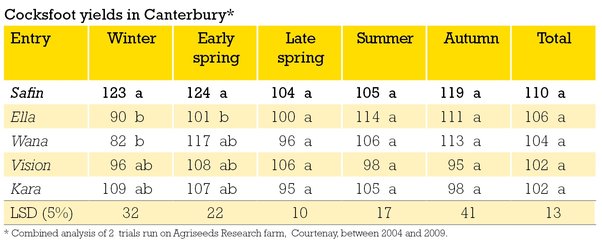 Tiller density
Safin is a 'superfine' cocksfoot, which in fact looks very similar to ryegrass. It is finer and denser than other cocksfoots on the market, with significantly more tillers as shown in the table below. On its release Ella was considered fine leaved, but Safin sets a new benchmark, with 41% more tillers than Ella.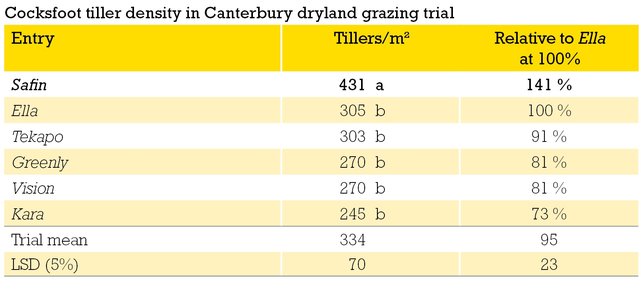 Pest control
Once established Safin is tolerant to grass grub and Argentine stem weevil (ASW) attack. However, seedlings are susceptible at sowing and AGRICOTE Grass seed treatment is recommended where these pests are a risk.
Cocksfoot has no endophyte and is therefore safe to graze low over summer.
Managing Safin
Cocksfoot is slower to establish than ryegrass. In a ryegrass-based pasture little cocksfoot is often seen until the first summer after it has been sown, after which the content of cocksfoot will increase, especially under dry conditions.
If sowing a specialist cocksfoot-based pasture, sow early while soil temperatures are above 12°C. A summer fallow, to conserve moisture prior to a late summer/early autumn sowing, is recommended in (potentially) autumn dry conditions.
Cocksfoot is lower in feed value and palatability than ryegrass if it becomes long or rank, so it should be kept short and leafy through spring. Graze cocksfoot when it has 3-4 leaves/tiller to maintain good feed value. (This is the same concept as for ryegrass at 2.5 -3 leaves/tiller.) The feed value of cocksfoot declines if it grows to 5 leaves/tiller, as older leaves die reducing feed value. In grazing trials, animal performance is reasonably good where cocksfoot has been kept leafy. Maintaining good legume content in cocksfoot pastures will also improve animal performance.
Cocksfoot is more tolerant of low-moderate soil fertility than perennial ryegrass. However, it is very responsive to nitrogen fertiliser, generally at higher response rates than ryegrass, and this can be a very useful tool to promote growth, as well as improving feed value and protein content.
Sowing Safin