Act fast to prevent potential feed shortage, farmers urged
27 March: Farmers in several parts of the North Island could face further feed shortages in winter and spring if they don't act soon to repair pastures killed or damaged by prolonged dry weather.
The good news, according to pasture specialists, is that there's still time to undersow new seed into these paddocks to get grass growing again.
"Undersowing is fast, economic and very effective in these situations," says Richard Doney, upper North Island area manager for Barenbrug.
"If you do it right, it can make the difference between having enough grass on the farm in a few months' time, and having to spend extra money on supplements to maintain production."
The alternative, he says, is pastures full of weeds, which are not palatable to cows and ultimately depress milk yield.
NIWA's weekly drought index shows most of the North Island is currently classified as dry, very dry, extremely dry or in drought.
Richard and fellow area manager Bruce Paterson, lower North Island, say they're fielding calls from farmers and advisors asking how to get damaged paddocks growing good grass again.
Their first piece of advice is to act now.
"There is only a brief window to get new seed into the ground before weeds take hold," Bruce says. "We're talking three to four weeks, tops. You can think of it as a race between you and the weeds."
Damage in his area ranges from total pasture death to 50% plant loss and in some cases has been made worse by insect pests.
"A lot of farmers have already earmarked their worst affected paddocks for spring crop, and that's great. But many of them also have an unusually high number of other paddocks which really need to be patched up before they get any worse."
He and Richard recommend farmers walk all their pastures, and score them using the DairyNZ pasture condition score tool.
Those which have opened up during the dry, with large areas of bare ground, can be undersown with no further intervention, but only if there are few weeds.
If weeds have become established, these should be sprayed before undersowing, to remove competition for new grass seedlings.
Undersowing options include Italian ryegrass like Tabu+, for paddocks scheduled to be cropped in spring; and hybrid ryegrass like Shogun, which lasts longer.
Both are fast establishing, with high yield, and will produce much-needed extra dry matter without the cost of full pasture renewal.
For best results, undersow after hard grazing; always use treated seed and sow at 50-75% of the normal rate (using the higher rate of seed in thinner pastures). Check for slugs and bait if necessary.
Technique is important, Richard and Bruce say – drills should be driven slowly, not fast, and seed should be covered after sowing, with press wheels, harrow or roller.
Undersown paddocks should be grazed normally, to prevent seedlings from being shaded.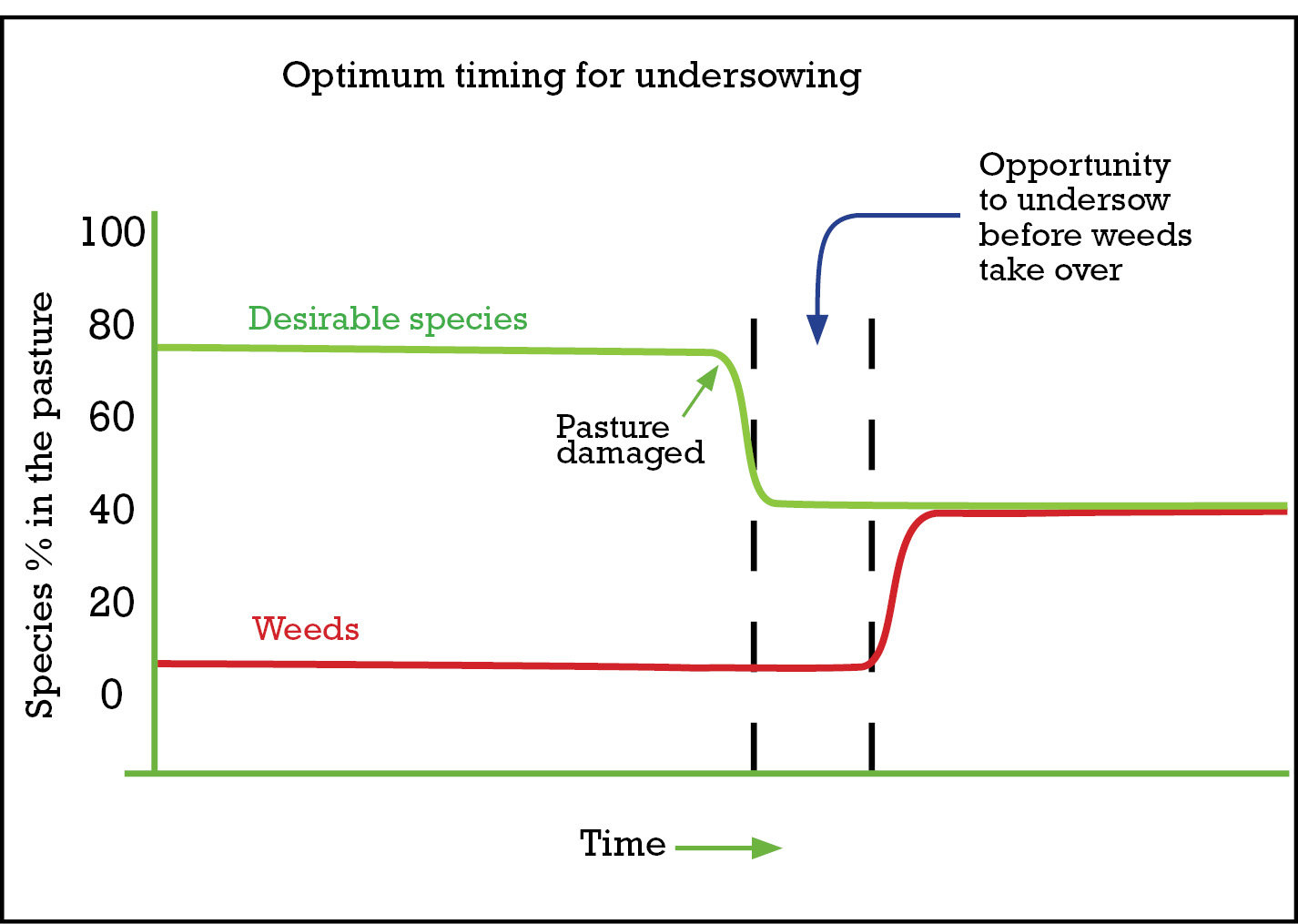 Undersowing is a race between you, and the weeds.