Forge NEA is a game-changer for 3-5 year pastures, the new champion medium-term ryegrass. Year-round yield is exceptional; tetraploid ME and palatability deliver superb animal performance. Plus environmental benefits too.
Grow much more
Forge is in a league of its own in yield, producing 15% - 36% more DM year-round than other hybrids over 3 years in the New Zealand NFVT trial summaries.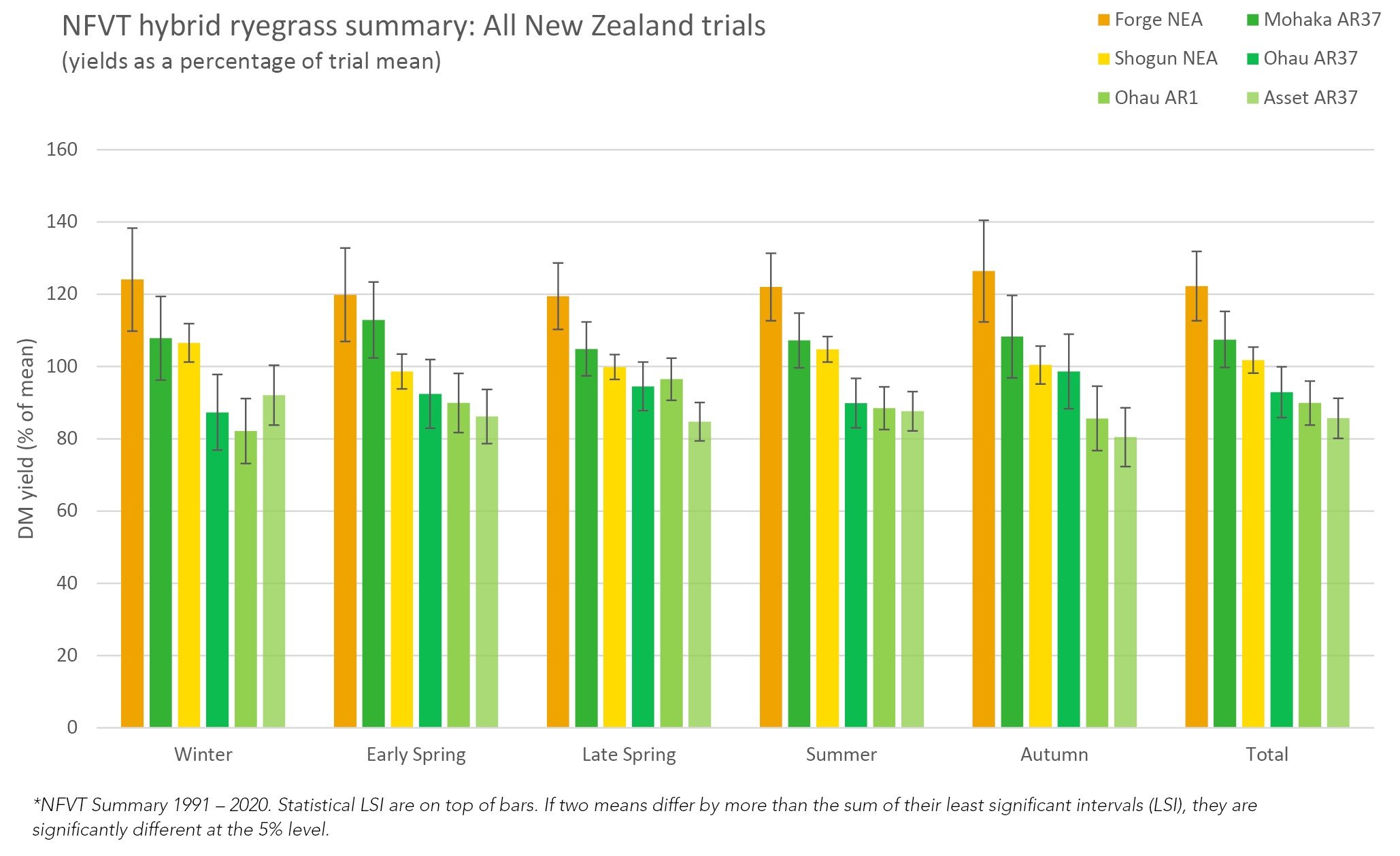 Cool season active
Autumn-winter-early spring growth is increasingly sought-after in our farm systems. It provides feed when it is often most needed, and most expensive. It also helps lighten your farm footprint, utilising soil N at the time of highest risk for N leaching.

Forge's cool season growth is unbeaten – in autumn producing 18% - 46% more; in winter producing 16% - 42% more - than other hybrids in the 3 year NFVT summary above.
Tasty as
Animals love tetraploids – they are soft, legume-friendly, rich in energy and easy to eat. Forge's ME and palatability encourage high intakes, optimal per head performance and improved efficiency. It's easier to manage, too.
Lose less N & GHG
With higher animal intakes, easier management and extra cool season growth, Forge can help lighten your farm footprint.

Tetraploids can be grazed at higher covers, meaning you grow more pasture, or it can be turned into an environmental benefit through growing the same amount of pasture for less N fertiliser. And with most N lost through the cool season when soils are saturated, Forge's extra winter yield better mitigates this.
The palatability and high feed value also allow you to produce more per animal, which can be captured in lower stock numbers, lowering greenhouse gas (GHG) production - as well as reducing animal health costs.
System fit
Dairy farms: Sow Forge as the backbone of high performance, high MS producing 3-5 year pasture, that is easy to graze, and with significantly faster establishment and more winter growth than a perennial ryegrass.
Sheep and beef: Forge will generate high meat yield per ha, through its yield, palatability and high clover content, and provides significantly more cool season LWG potential than a perennial ryegrass.
Undersowing: Forge establishes rapidly, with fast regrowth, making it ideal to direct-drill into thin, runout pastures to extend their life for 2-5 years.
Persistent
Forge's persistence in trial has been very good for a tetraploid hybrid, thanks to high tiller density and a focus on persistence in its breeding.
Suggested seed mixes
These mixes can be adjusted to meet specific requirements, and other species can be added as needed such as Captain CS plantain.