Easy to eat
Array is the perennial ryegrass hard-working ruminants have been hoping for. Upright, leafy and densely tillered, it's customised for easy eating and high intake.

Chomping through thousands of bites every day demands a lot of physical energy! Array takes some of the effort out of this process, because it stands tall and literally puts itself closer to those hungry mouths.

Your animals will naturally eat more as a result, and have more time to relax, ruminate and produce meat or milk. That's better for them, and for you too.
5-star FVI
With a top rating in all regions of the DairyNZ Forage Value Index for perennial ryegrass, you can sow Array NEA2 with confidence. See www.dairynz.co.nz/fvi

Unbeaten yield
Nothing else yields more dry matter in the National Forage Variety Trials. That boosts your supply of home grown feed, and keeps animals well-fed.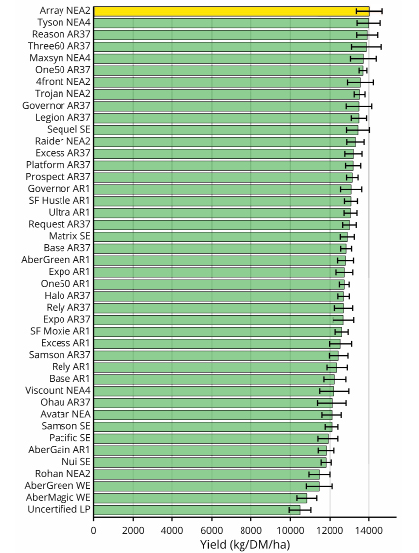 Array Perennial Ryegrass is owned and marketed by Barenbrug
Array Perennial Ryegrass is protected under the NZ Plant Variety Rights Act 1987
Great cool season growth
Array has the best cool season growth of any perennial ryegrass we've bred.
That helps fill the gap when feed is short, and makes your farm more resilient so you can adapt to shifting climatic patterns.
Very persistent
Keep your diesel in the tank, and leave your soil undisturbed, because Array NEA2 has our highest ranking for pasture persistence. It's as good as Maxsyn NEA4.
Eats N for breakfast
In trials, Array has grown significantly more feed under low N conditions than other ryegrass cultivars.

What does this mean for your farm? First, more even pasture growth at times when soil nitrogen is deficient, something that happens on virtually every farm at some stage during the year. Second, a win for the environment, because this provides the potential to utilise nitrogen more efficiently.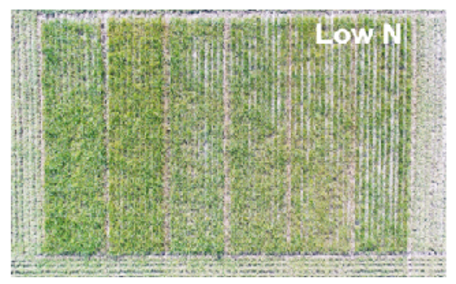 Animal performance & health
Array NEA2 keeps animals happy and healthy with leafy, high energy grazing and a very late heading date (+23 days).
For dairy cows and beef, Array NEA2 provides ryegrass staggers free pasture. For sheep and deer, there is a very low risk of ryegrass staggers when grazing NEA2 endophyte.
Sowing Array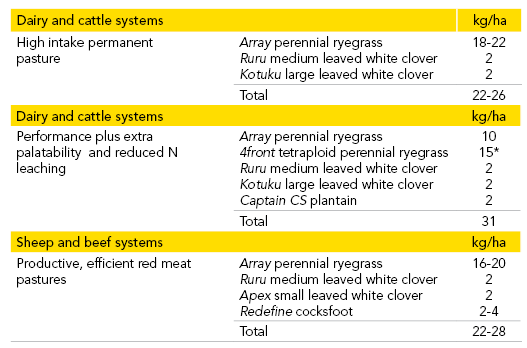 * Tetraploids are sown at a higher rate than diploids, because of their larger seed.