Top FVI star rating
Trojan NEA2 has proven its exceptional DM yield, spending the last 5 years in the DairyNZ Forage Value Index with the highest star ranking for a diploid ryegrass nationwide. Equally important is how it does this in the shoulders of the season, in winter/early spring and summer.

In this example cultivars in this top group, which are ranked alphabetically, provide $450-576/ha more operating profit each year than the 1 Star cultivars like Nui ryegrass on a typical dairy farm.
DairyNZ FVI perennial ryegrass list 2020 - Upper South Island*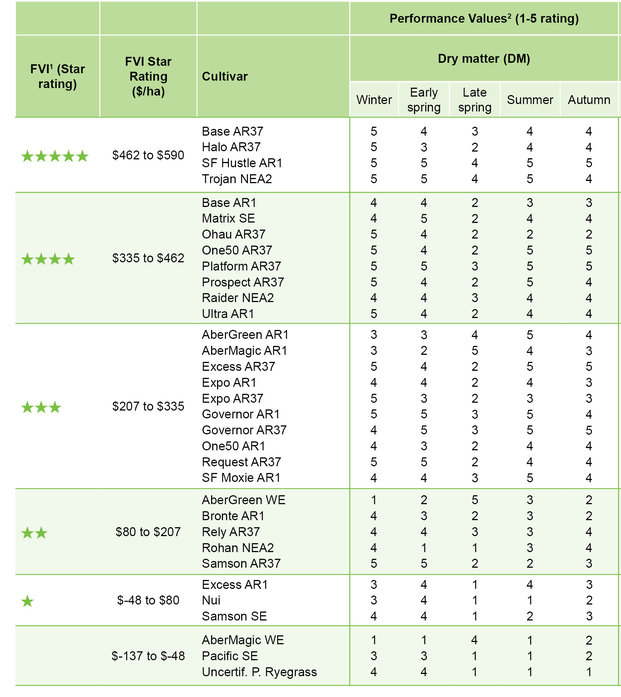 Endophyte
Trojan contains NEA2 endophyte, a mixture of different endophyte strains providing:
Good control of adult black beetle and Argentine stem weevil.
Very good control of pasture mealy bug (provisional rating).
Moderate control of root aphid.
Feed quality
Trojan is late heading (+13 days) with a low level of aftermath heading, giving it better feed quality in late spring and summer. In trials for the DairyNZ Forage Value Index Trojan showed very high feed quality with an average 12.5 MJME/kg DM through the year.
Resistance
Trojan has good resistance to rust, and very good resistance to plant pulling.
Species classification
Trojan was bred as a perennial ryegrass and performs as one. It has a low level of tip awns (hairs) on its seed so under the seed certification regulations this means it is classified as Lolium boucheanum. In terms of pasture performance it is a perennial ryegrass.
Sowing Trojan